First, a warning: This post details a time where the realities of life were stark, the gruesome details of the operations were something which I needed to get used to very quickly to keep abreast of what was going on. I debated whether to include images from the operations here but in the end decided to keep with the idea of being as truthful about the journey as possible. Parental guidance is advised.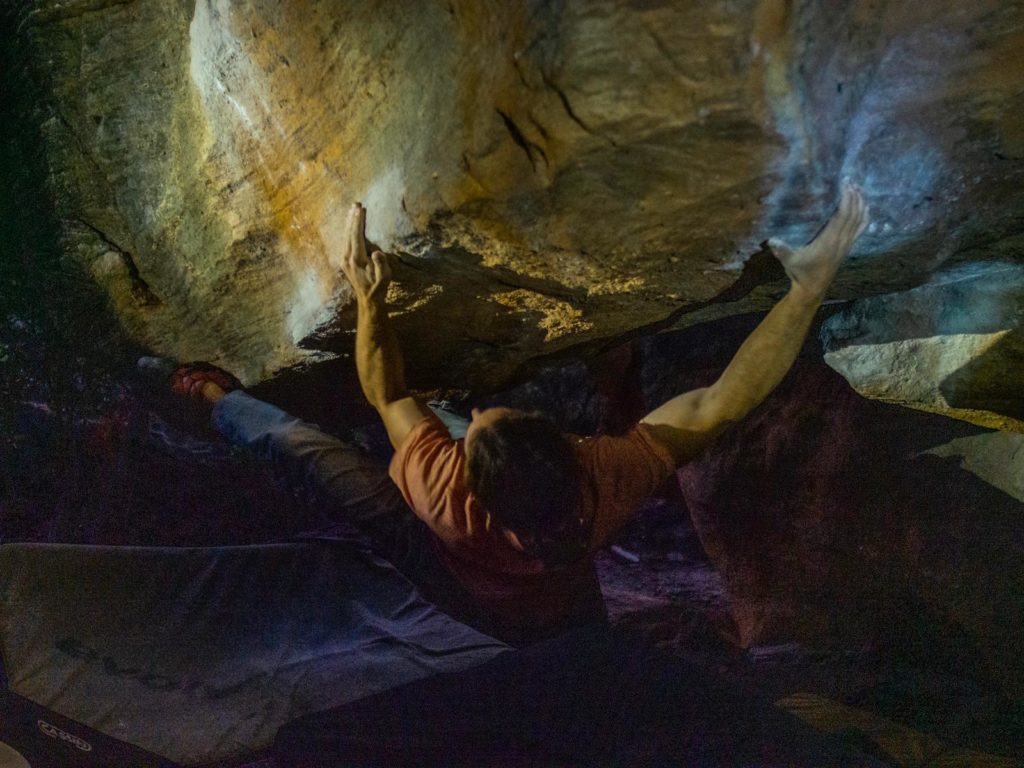 My Memories of this time lack continuity, partly because the doctors gave me drugs to prevent me from forming memories and partly due to my own reluctance to continuously rebuild those memories. I will try to recall salient thoughts and emotions from this time as write but mostly the information I have has been taken from the accounts of the doctors involved and my own journal which I started keeping on the Tuesday. I was more recording a timeline of major events that detailing my emotional or psychological state, I didn't really have the energy to do more than that.
Monday 14 July 2019
Firstly, I don't really remember waking up for the first time. I don't recall my sister and her husband seeing me awake on Sunday whilst still intubated, in fact I don't remember being intubated at all. But apparently I did wake up on Sunday, albeit under serious drugs. The initial operation had ended early in the morning and I was in again on Sunday Morning. The first memory I have is of waking up on the Monday morning. Or at least being awake, I don't fully recall the moment that I awoke. Rather like being in some dream, I was aware that I was conscious but with no real recollection of arriving there. I was alive and that certainly seemed to be a good thing, although there was serious pain. A kind of 'this isn't just going to go away pain'. I was also in some shock, there was a lot going on. On top of that I was also high. A kind of dull high Id never experienced before and it wasn't altogether pleasant. My lips were dry and cracked, my muscles ached, my throat was sore and I could barely move. It was bad, maybe not the worst that there has ever been, but pretty fucking bad.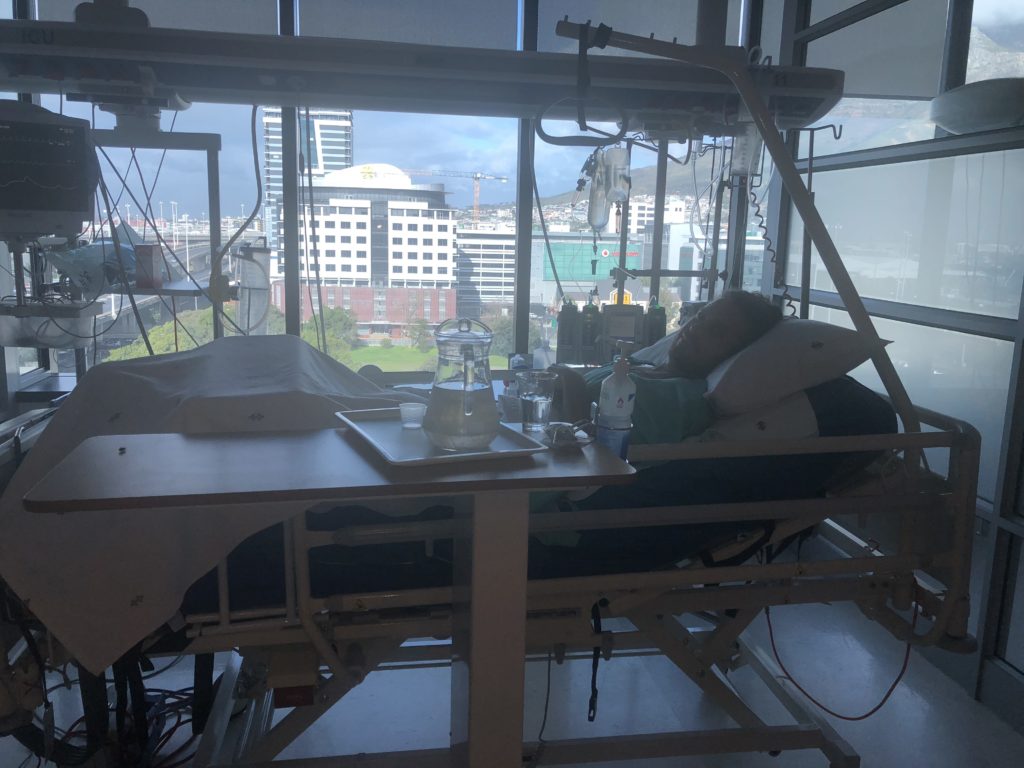 So what then had actually happened to me? When I arrived in Christian Barnard Hospital, I was in a state called pre-renal Failure, from what I understand its just before your body starts giving in and you get into serious trouble. I had lost a lot of blood, one doctor estimated I received around ten units of blood and a few units of plasma and platelets. About four and a half liters in total, an estimated 80%+ of my total volume of blood. The loss of blood combined with the dead tissue of my right leg was putting a lot of pressure on my body. There is a measure of lactic acid which they monitor during trauma, when I was put under my measure was 10 mmol/l where about 0.5 to 1 is average. This Lactic acid buildup is a reflection of the body's oxygen consumption outweighing it's ability to deliver oxygen. An inability to deliver sufficient oxygen and to remove a buildup of CO2 were starting to threaten my life. Apparently when I went under my blood pressure fell quite substantially and to keep me within limits the doctors had to use various vascular constricting and heart stimulating drugs to keep the flow of oxygen sufficient. Despite the drips and ongoing transfusion of blood, the anesthetist manually injected blood and plasma with a syringe to boost the amount of fluids going in and raise my blood pressure. In the end it was pretty close, they didn't actually need to resuscitate me so I guess it could have been closer, but it was close enough that the doctors were concerned and also relieved when my vital signs showed a large improvement post surgery.
My Left Leg was smashed just below the knee. The head of the Tibia bone, which forms the bottom of the knee, had been broken into three separate pieces and most of the bone directly below it at the 'fracture' site was so badly damaged that they needed to remove it. The small shards of bone apparently don't get sufficient blood supply, then die off and cause infection. Large pieces of the muscle and flesh had also been damaged. They had cut my leg open on both sides to relieve pressure caused by the swelling. The pressure had lead to compartment syndrome and was stopping blood circulation to the muscles. The Fibula had been displaced and broken at the top. The loose bottom section of the Tibia had been stabilized with an external fixation device using pins which screwed into the Fibula and the Femur above the knee, carbon fiber rods and bolted clamps kept the pins and bones secure. The wound was still open but covered in suction bandages to drain off the blood and plasma draining from it. The doctors were as yet uncertain as to whether they could successfully save the leg.
My Right leg was amputated above the knee and the doctors were apparently trying to leave me with as much of a stump as possible although they were concerned with the amount of viable soft tissue available. The trauma had been contained but the leg was not yet closed. Again suction bandages were used to drain the wound.
The initial surgery to save my life and remove my right leg took around 4 hours and ended at 3:07 on the Sunday morning. I was then taken back to theatre later that Sunday by the orthopedic surgeon to fit the external fixator.
To say that I slept on that first night in ICU wouldn't be quite accurate, its as if I continuously faded into and out of a nightmare. The nightmare part was when I was awake, pain, the effects of the drugs, the constant churning and beeping of the monitors and the machines that regulate the flow of drugs, the business of the nurses and patients coming and going and the shock of being in a hospital with only one leg which could still be amputated.
Tuesday 16 July 2019
Tuesday morning came, although in ICU there is scarcely a night time due to all the activity, and it was back to theatre at 08:20 AM for about three and a half hours, the doctors would continue to work on the left leg . Debriding the wounds, cleaning out more fragments of bone and removing more dead or dying tissue around the wound. Again I came out of the operation in pain and exhausted, it was like all the energy in my body had been depleted, everything I had was used up, maxed out. It was all I could do to try to get through that day moment for moment. I ate some bean soup that evening, although I was not allowed to eat the beans, my digestive system had shut down and the drugs almost guarantee that you get constipated, an issue which would prove to be a problem in the days to come.
Wednesday 17 July 2019
My father arrived from Italy and came to see me in the hospital. It was encouraging to have my family there and without their support during this time, I doubt I would have had the fortitude to continue.
I was taken to theatre again today for the vascular surgeon to do an angiogram of my left leg. Essentially they use an MRI machine and a dye to track the functioning of my blood vessels. They inject the dye into the vein in your pubic area and then uses a pressure bandage to close off the injection site to help stop the vein from bleeding. The anesthetist apparently used some kind of clearing agent drug to wake me from the anesthetic. The effect was to neutralise the painkilling drugs in my system. The procedure wasn't long but I awoke fast and in considerable pain, post operative shock set in instantly. I was shaking, sweating, cold and breathing in gasps. It felt as if I had just been hit by the rock again, only this time I was already in Hell when it happened. Back in the ICU it took around two hours for me to 'normalise' again. Later that evening I had my first real food since the accident, Chicken (lets just leave it at that).
Thursday 18 July 2019
My mother arrived and I saw her for the first time, I also learnt of the amazing amount of support that I had from friends, acquaintances and colleagues outside the hospital. The realisation of how many people I had connected with in my life was staggering.
The doctors placed an 'epidural', which is essentially a continuous local anaesthetic applied directly to the spinal cord. They insert a catheter between the vertebrae and into the the area surrounding the spinal cord, a process which is quite unpleasant I can assure you. It did however, help with the pain. For the first time since the accident, my pain was lessened on a more continuous basis. Before then I had had moments that were pain free, but they would be induced by the doctors or nurses giving me some hectic dose of drugs that would reduce or even pause my consciousness. Sure, the morphine, ketamine and precedex were helping to manage the pain, but the epidural really improved things.
I was again taken to theater for around three and a half hours. They continued the process of closing my right leg, they sutured blood vessels and soft tissue and reapplied the vacuum dressings. They also worked on the left leg again, removing further bone and suturing more of the muscles and other soft tissue to try to save the leg. Again I awoke in pain and exhausted, I had this feeling that the world was happening to me and there was in fact very little I could do to change the course of events, I was a passenger on this rollercoaster through Hell and every operation was like a limitless fall further into the black, hot darkness.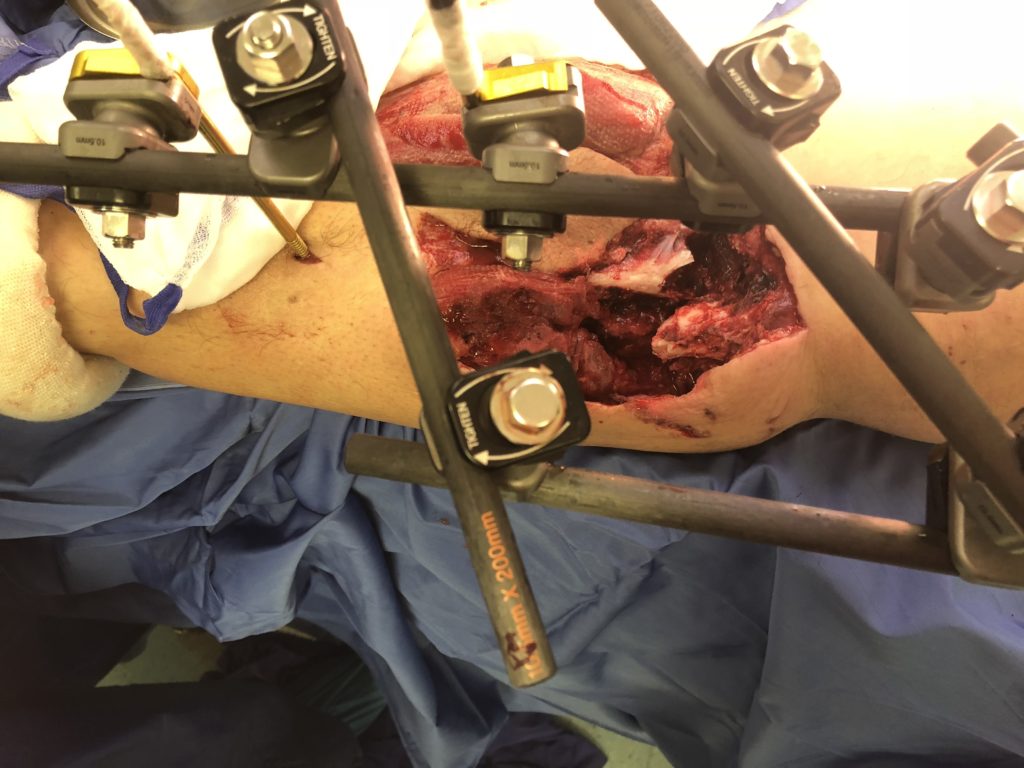 Friday 19 July 2019 – Sunday 21 July 2019
Although I technically didn't have surgery on the Monday, it still felt to me as if i had. I had woken up for the first time in recollection since the accident on Monday and it felt as if this Friday was the first day on which I had not been to theatre, and what a relief. To know that there was a break from this constant in and out of induced unconsciousness and that I could just rest was incredible. The journey to this point had been so dense and chaotic, new people, new experiences and a large amount of learning to stay informed on what was going on. For the most part I just lay there over the weekend reeling from the traumatic events of the past week. The nurses turned my bed inside the cubicle so I could look out the window, although it was raining and cloudy, I could still see the Hottentots-Holland Mountain range in the distance. Once my home and my passion, the mountains now looked like some far away land, beautiful and inaccessible, simultaneously alluring and jeering, as if the world was saying 'Yea, you want this, well then suffer…'
There were no answers, there was no reason, my emotions ranged far and wide; Courageous, born out of my lessons in climbing; Grievous, born out of the complete devastation of the future; Fearful and frustrated from within the present moment. People often tell me how I was so positive during that time and that that's what got me though, I can't say I agree with them, I was just trying to stay with it, trying to hold on to some kind of sanity amidst the sudden and terrifying chaos which had so rapidly consumed me. Perhaps it is just such striving to overcome that is the core of positivity, it has occurred to me before that its genesis is such. There might have been no answers, but by the end of the weekend I was clearly faced with the question: Do you have the will to suffer? You can give up, but if you have the will to suffer seemingly without end, if you truly ask that question, in all its seriousness, through all the sacrifices you will need to make to learn the answer, you do not know what you could become. When all else is washed away, when reality is so overbearing that you get faced with this question in its full undisguised nakedness, the choice between two options becomes quite clear: Suffer bravely and voluntarily, or cast yourself down to the end of consciousness.